Location of the Workshop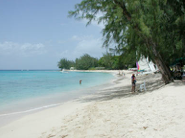 The Bellairs Research Institute of McGill University is located in Barbados, one of the southernmost islands of the Caribbean. Bellairs is about 30 minutes by shuttle from the airport. Bellairs can house max. 40 people in double rooms. The price per person is very low (subject to change): for students $28 - $35 / night, for professors $34 - $50 / night, depending on if you choose a room with a private bathroom or not. The room prices are really low (especially considering that Barbados is in general quite expensive), but of course this also means that you should not expect 5 star quality! There is a shared kitchen available for the guests, and there is a cooking crew that comes in to prepare breakfast / dinner for the guests ($8-$10 for breakfast, $25-$27.50 for dinner).
There are two air-conditioned meeting/presentation rooms, there are several outside areas with blackboards, and of course there are many calm places on the beach where discussions can take place. There is a wireless network (shared by all guests) that provides Internet access, but the speed is not impressive. But of course it is enough to check your email and keep in touch with the rest of the world with Skype. A flat usage fee is charged.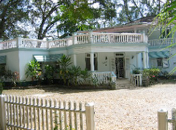 Basically the idea of the Bellairs Research Institute of McGill University is similar to a seminar at Dagstuhl: provide everything necessary for researchers to spend an intense week working on an inspiring research topic in "isolation".
During the week, we are sharing the facilities with another research group, so for us there is space for max. 20 participants for our workshop, provided that rooms are shared. If you really don't like that idea of sharing, then let the organizers know. Maybe we have enough space to allow you to stay in the room on your own, but in this case you must pay double the price for the room. Also, there is a hotel that is not too far from the Bellairs Research Institute (20-minute walk, 3 minutes cab ride) that offers a special rate to Bellairs workshop participants (about $100 per night per double room).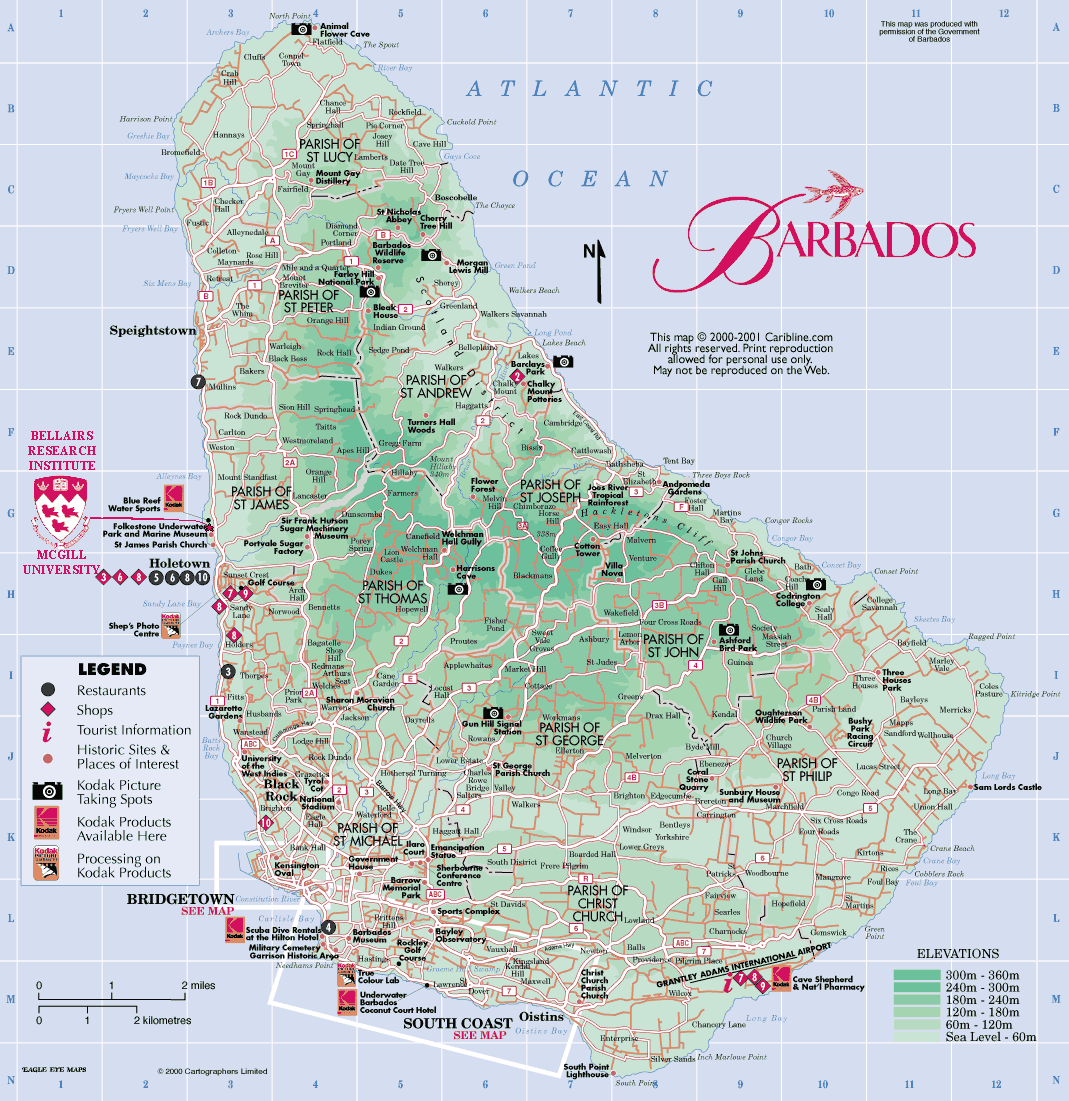 Getting to Bellairs
The official Bellairs contact information is:
Bellairs Research Institute
Folkestone (Holetown), St. James Parish, BB24017, Barbados
Tel.: +1 (246) 422-2087 (main office)
Tel.: +1 (246) 422-2034 (dining hall)
Fax: +1 (246) 422-0692
Accommodations: enquiries@bellairs-mcgill.org
Other enquiries: admin@bellairs-mcgill.org
Director: Susan Mahon
The Barbados airport is located in the south of the island. Bellairs is located on the north side of Holetown. To get to Bellairs from the airport, you can:
Take a taxi. Ask to be taken to the Bellairs Research Institute in Holetown. Most taxi drivers know where Bellairs is (thanks to the many workshops as well as the field semesters for students). In case they don't know, say it is located in between Folkstone Park and the Coral Reef Club on the North side of Holetown. The taxi price is typically around $60 Bds. There is now a sign at the airport which gives fixed prices for several destinations. Some amount is added for each extra passenger and for luggage. Note that those prices are only for rides from the airport. You negotiate the price in the opposite direction. You may ask the Bellairs secretary to book a taxi for you to take you to the airport. The taxi ride takes between 40 minutes and 1 hour, depending on traffic.
Take the bus ($2 Bds, exact change required, no change given on the blue official government buses). Note that you can change money inside the airport baggage claim hall. That gives you the opportunity to get some small change. If you want to take a bus, there is a direct bus (destination Speightstown) on Sunday and holidays. On weekdays, buses are more frequent, but you need to first take a bus to Oistins (buses to Bridgetown will also stop in Oistins) and switch there to a bus to Speightstown. Note that there is no "transfer" ticket. When you switch in Oistins you need to buy a new ticket. Bus schedules can be found on the Transport Board website. Buses are not always on time. The Airport - Bellairs trip takes around 1.5h, depending on traffic. The bus takes a longer route (along the coast) than a taxi (which takes an internal "highway"). The bus stop is right in front of Folkestone park and the Bellairs entrance is 30m farther down the road. Note that traffic on Barbados is on the left-hand-side of the road! On the way back to the airport, take buses going to either Airport or Kirtons (stops at the airport) or to Oistins and switch there to get to the airport. Switching in Bridgetown is not advised (we are told one needs to transfer between bus terminals).
Share transport with other participants. In the past, we have collected arrival and departure information from all participants and then forwarded this information to a taxi company that has been working with the Bellairs Research Institute for a long time. The taxi company figures out the best way to share larger vans or regular taxis. In that case, you will see typically someone waiting outside the airport terminal with a Bellairs sign. We will most likely do this again for arrival and departure.
A detailed map shows where exactly the Bellairs Research Institute is located. When you arrive at Bellairs, just go straight to the office. There, you will be greeted by the helpful Bellairs staff telling you which is your room. If you arrive outside office hours, someone else will be there to greet you and we will let you know how to get in touch with them upon arrival.
Other Practical Information
One Barbados dollar is worth 0.5 US dollar. US dollars can be used almost everywhere to pay cash, though change is given in Barbados dollars. If you plan to take the bus to Bellairs from the airport, you need exact change. You can get Barbados dollars at a small exchange place in the airport, just behind the baggage carrousels, after you go through immigration and before you go through customs.
Bellairs is situated on one of the best beaches in Barbados, so don't forget your bathing suit for swims before breakfast and in between work sessions. There is a (partially alive) coral reef right in front of Bellairs, and a really nice coral reef at 15 minutes walk from Bellairs, so if you like snorkeling, bring your finns and mask.
Above all, don't forget sunscreen!
Depending on the weather conditions and other factors, we may get some mosquitoes (this is typically more of a problem during the rainy season). You should bring some bug repellant just in case. Some people also bring a mosquito net to hang over the bed for the night (you can get cheap ones at Ikea, for instance). Note that there is no malaria on the island of Barbados.
House rules:
Kitchen and Food
We are responsible for washing all of our dishes if we use the kitchen. Please leave the kitchen clean.
We can make coffee in the kitchen any time we want. The available coffee at Bellairs is of the instant variety. If you wish to bring your own coffee (and share) that is appreciated.
Breakfast ($8-$10) and dinner ($25-$27.50) is provided by Bellairs (cook comes in in the afternoon and prepares wonderful roast chicken, local fish, ...). If you need specific food, you will most likely find it at the local supermarket. There is a guest fridge in the dining hall where we can keep our own private food. Please label your food and remove any left over when you leave.
Showers and Sand
Sand in the shower drains can cause enormous blockage problems. Please be sure to rinse off the sand from your feet before entering your rooms. There are water taps outside all blocks of rooms for this purpose.
Locked Doors and Valuables
Please leave your room locked when you are not in.
You can leave your money and other valuables in the safe in the main office. Some rooms also have a safe. If you leave some money in your room without a safe, we suggest you put it in a purse inside a locked suitcase inside a closed closet; certainly do not leave it within arm's reach of the back windows facing the public park.
Telephone and Computers
Some computers are available which is useful for printing boarding passes before departure (you may need to bring paper, though). Wireless Internet connection speed is reasonable, most of the time. The speed is high enough to use Skype, which is far cheaper than buying local phone cards. There is a telephone in the dining hall, which can be used for local calls (e.g., to call a taxi).